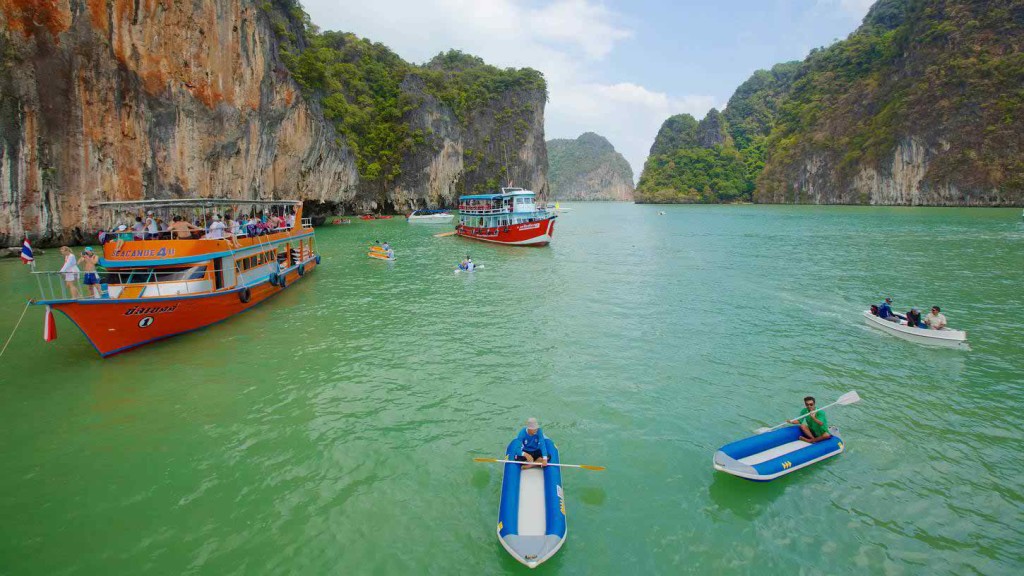 Mention the word 'Bangkok' and chances are you'll immediately put the fear of God into anyone that doesn't have a somewhat developed taste for adventure. In fact, it's hardly common to hear of anyone with a somewhat shy and retiring nature giving the slightest thought to travelling to Thailand – a country somewhat notorious the world over for creating and showcasing its own uniquely heady take on reality.
But does this really mean that timid types should write the place off entirely? After all, there must be more to Thailand than throbbing all-night parties and the kind of sex tourism that gives much of the place a bad name, right?
Bangkok Without the Bang
Some say Bangkok is no place for the faint-hearted, but then again neither is London…or New York…or even Doncaster for that matter. Any mainstream holiday to Thailand will begin and end in Bangkok, but while this is indeed a supercity that's known for assaulting the senses in a multitude of ways, it can in reality be anything you want it to be. For example, there really aren't many places on Earth where you can stay in a five-star luxury hotel for less than £50 per night. And this is really five-star luxury too – not that weird take on luxury some countries have where you're supposed to celebrate having a flushing toilet.
This pretty much sets the scene for much of Bangkok as a whole, which is uniquely affordable, brilliantly versatile and presents itself on a silver platter to every visitor. Don't like the idea of the throbbing nightclubs and strip joints? No worries – instead try the rooftop bars of the most luxurious restaurants and hotels for what are largely considered to be the best city views in the world. Not interested in stuffing your case full of counterfeit clothing from the local markets? The world-class luxury shopping should do the trick. Not fancying the weird bugs being fried and served up on the streets? Fine dining is everywhere.
To write off Bangkok therefore as a mecca for party-types and adventure heads only is to not only do the city itself a disservice, but also to rob yourself of something quite wonderful.
Island Life
The same also goes for the islands as for the most part it's only the likes of the full moon parties folk hear about and the rather infamous nightlife of Phuket. Pretty places, but not for shy and retiring types. But does this mean that all Thai islands are like this? Not even close – it's again just a single side of the story and one that should be investigated further.
Take for example Ko Chang – aka Elephant Island – to the East, part of the Trat province. Here you have an island that's still something of a secret and largely frequented only by those looking to completely escape the typical Thai tourism experience. If you want gritty nightclubs, drunk Brits on the beach and more Irish bars than in Dublin, you won't find them here. Instead, what you will find are huts on the sand for no more than £5 per night, pristine beaches, quiet roads, rustic restaurants and traditional fishing villages that haven't changed in generations.
And if that wasn't all, how about the country's most idyllic elephant reserves offer the change to take the trek of a lifetime aboard a beautiful beast. You can even go swimming with the elephants if you like the idea, or spend your time exploring the stunning waterfalls that seem far too pretty to be the work of Mother Nature.
It's hard to put it into words but when you take the plunge and check out a place like this, you really get a feel for how misleading the portrayal of Thai island life really is.