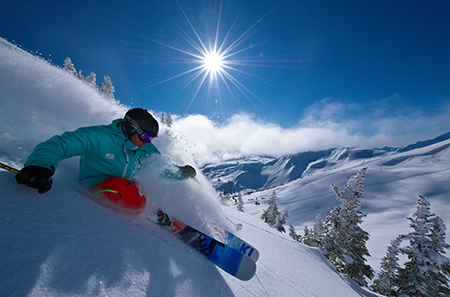 The post-Christmas period can be a trying one. Long evenings, miserable weather and no discernible public holidays for miles around – at least until Easter. So how can you get through to Spring without going crazy with the cold? One option for sporty or adventurous types is to pack up the boots and poles and go skiing or even snowboarding. Here are five top tips for those planning to 'slope off' this winter.
1. Shop around for the best deal, and start early. As soon as you have decided upon skiing or snowboarding as the theme for your next holiday, check out what deals are available online. Think outside the proverbial box too – the skiing destinations you might already be familiar with could work out far more expensive than trying out lesser-known places, or newly opened resorts looking for business.
2. Get insured. Never embark upon a skiing or snowboarding trip without the right level of travel insurance. Choose a policy that covers you and your family specifically for skiing – including injury to yourselves or other people and loss, damage or theft of your equipment. Finally, make sure it covers the possibility of having to cancel your holiday outright. Whether your flight is grounded due to freezing fog or you are struck down by a nasty winter bug, reasons why you might have to cancel a winter holiday can be many and varied.
3. Look over your skiing or snowboarding equipment in plenty of time and buy new gear if your existing things are looking a little old. This is particularly important when it comes to protective clothing. Don't forget to pre-book bulky equipment onto your flight so that you do not come across any weight restriction problems at the airport.
4. Alternatively, arrange for equipment hire at your destination before you travel so that it is there waiting for you and you don't have to lug it around. Only do this if you have some skiing experience though; beginners will not always know what to go for, so it is unwise for them to book anything important unseen.
5. Have you opted for full-board or self catering accommodation? If you have chosen the latter, do your big food shop on the way to the resort, rather than when you get there. Find a large supermarket for much cheaper food and greater choice. If you have room in your luggage, pack a few home comforts, such as your favourite tea, coffee or biscuits.
Finally, check your paperwork: passports, money, tickets and skiing lesson confirmation, before you set off. If it has been a while since your last visit why not grab a few refresher lessons on an indoor ski slope before you leave? That way, you can feel confident in showing off your moves when you get there, rather than spending all your time après-ski nursing painful bruises.