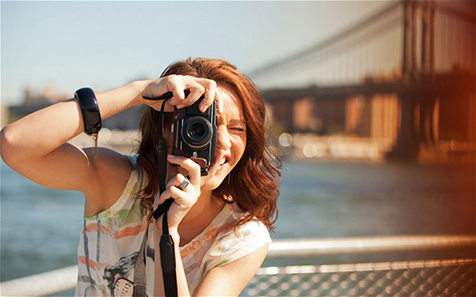 You've had a great holiday. Eaten too much. Spent too much. Enjoyed the sun and discovered some great sights. Now you're home and you want to relive the memories. One of the best ways to do this is by looking back over the photographs you took during your travels. Yet it can be soul-destroying for everyone concerned to have to leaf through hundreds of identical shots of the same building, or squint at over-exposed pictures of the family in front of an uninspiring view.
So how do you make sure you take interesting, vibrant holiday photographs that capture the essence of your special trip instead of hundreds of duds? Here are some ideas.

Pack the right stuff
You will not get decent photos on an inadequate camera. That said, clogging up the suitcase with endless lenses, tripods and flashguns will not be popular with everyone else. For most holidays, a decent 'point and click' digital camera will do the trick; read the instructions before you leave home so that you're familiar with your camera's settings. Don't forget to pack extra batteries and memory cards as well.
Get on with it
If you want pictures of smiling, relaxed family members, don't subject them to hours of photography everywhere you go. Choose what you are likely to want to photograph and get on with it; don't let the camera become a tyrant. The beauty of digital cameras is that you don't have to waste money printing out hundreds of photos, so there's no need to spend ages setting up a shot. In fact, candid, or reportage pictures often tell a more genuine story of the holiday than a super-posed group pic in front of the main tourist attraction. So snap away and don't hang about.
Get creative
To avoid those dreaded identical shots, take time to think about different ways you could photograph a building, view or event while on holiday. Take long distance pictures, then zoom in on details that catch your eye. Experiment with unusual angles or camera settings. Have family members stand or sit in unexpected places, such as leaning in a doorway or jumping off steps (check you are allowed to climb on, or enter places before doing this).
It's all in the detail
Take advantage of the macro setting on your digital camera to take close ups of flowers in a garden, pebbles on a beach, or native fruit and veg from a market stall. This will bring the holiday to life, as you capture moments of daily life in amidst the tourist glitz. Perhaps you could return to the same spot at different times of day to see what it looks like in the various kinds of light.
Be considerate of your surroundings
Never take someone's photo without their knowledge or permission and respect any local customs, signs or instructions forbidding photography. This can be common in places of worship, live performances and attractions where animals, birds or fish could become distressed by a camera flash.