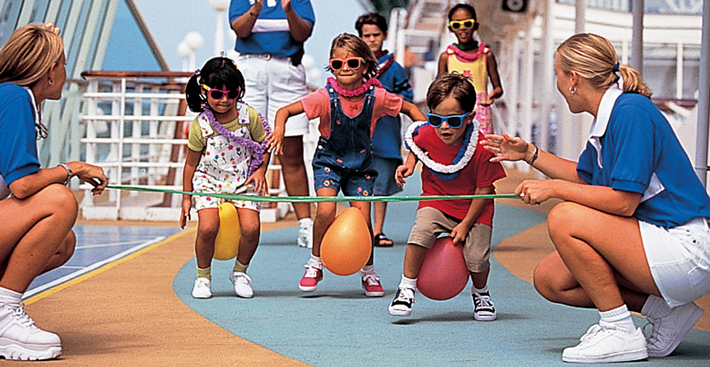 When dreaming of a cruising holiday, most of us concentrate on one thing. Relaxation. Or maybe two: relaxation and an easy way to see new places. After all, it is a very simple way to travel. You have your accommodation, transport, entertainment and food all sorted out for you. Even when you get to your destination(s), there are usually a host of day trips already planned if you wish to join them.
So why would anyone in their right mind want to add little children into the mix? You might find them charmingly cheeky at home, but do they hold the same charms when you are trapped with them in a floating hotel for days on end? Then you have the other passengers to consider. Is it really possible to combine kids with a cruise ship holiday?
In fact, it is, so long as you invest a little time and imagination into the whole planning process. Choose a departure port that you can drive to, or get to via an easy public transport route. Pre-book parking if you come by car, as you will have a lot of stuff that you won't want to lug to the ship from miles away. Pick a destination that is not too far to away, and which has a culture and climate not too dissimilar to your little ones' home country.
Don't be too ambitious about the time you are away for either. One week is adequate for your first cruise with a young family. If all goes well, you can consider going for longer next time, school holidays permitting. Make sure you go with a family-friendly ship too. These have children's clubs, babysitting and family dining options, as well as larger cabins with cots, children's beds and facilities for babies. Above all, however, these ships have other families for your kids to make friends and for you to feel like you are amongst sympathetic travellers when your darling children get a little noisier than perhaps would be ideal.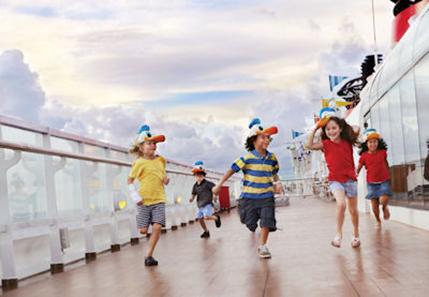 Keep the kids informed and involved with the cruise ship holiday. Tell them what to expect and look at guide books together. Perhaps let them choose some of the places to visit while ashore – bearing in mind the time restrictions a cruise holiday with multiple stop offs will impose. Encourage them to make a list of things to take – and reassure them that teddy can come too. Pack them plenty of snacks, (small) toys, books and perhaps a portable DVD player or tablet computer loaded with favourite films for when the boat is at sea. Include a cheap disposable camera for older ones to capture their own memories.
Finally, while onboard, make use of the kids' clubs, facilities and fully trained family reps without feeling guilty. They will have a great time there without you and you can relax doing your own thing too until it is time to meet up again to share your experiences. Above all, enjoy your holiday!